MODALES was present at the 2023 ITS European Congress with two technical paper presentations, a booth at the ERTICO stand and a presentation in a Special Interest Session (SIS). This major event for the ITS community took place from 22 to 24 May in Lisbon.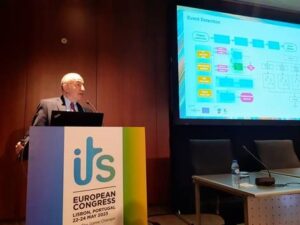 Right at the start of the Congress, MODALES took part in TP 2 "Data for emission reduction" with two technical papers presentations. Orhan Alankus (Okan University) presented a paper he authored together with Engin Özatay entitled "Integrative Emissions and Health-Based Scoring Algorithm Development for Driving Style Optimization". The second paper, "Information System for Vehicle Anti-tampering based on OBD Data", written by Nikos Dimokas and Dimitris Margaritis (CERTH), was presented by Andrew Winder (ERTICO), MODALES Project Coordinator.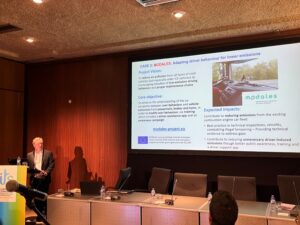 On the last day of the Congress, the SIS 59 "ITS to mitigate climate change and reduce pollution: impacts and quick wins" featured the MODALES project. Andrew Winder introduced the project and its vision and provided some examples of the results obtained from the trials analysing the impact of driver behaviour on emissions, discussing how EU-funded projects like MODALES contribute to achieving decarbonisation targets and overall more sustainable mobility.
Both papers and the associated technical presentation slides, as well as the slides for SIS 59, can be downloaded below:
In addition, MODALES was represented among other ERTICO projects in Clean & Eco Mobility at the ERTICO stand. Attendees had the opportunity to learn more about the project and discover the MODALES low-emission driving training videos and Awareness Campaign.